Set in acres of lush, tropical grounds, the Singapore Polo Club is a world apart from Singapore's bustling pace and yet, located just minutes from the heart of the city's hectic business and commercial centre. Enjoy the old-world rustic charm of the clubhouse with its open verandah and views of tropical greenery and open spaces that provide a relaxing and understated, natural ambience. With 15 cosy & well-appointed rooms as well as pony & horse riding programmes, our club rooms will be the perfect escapade for you and your family.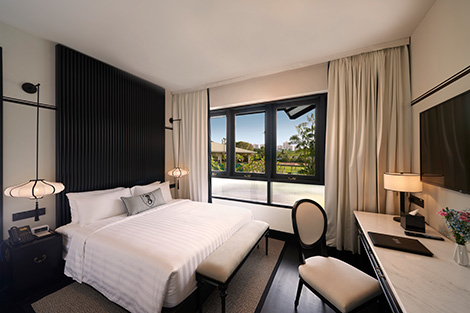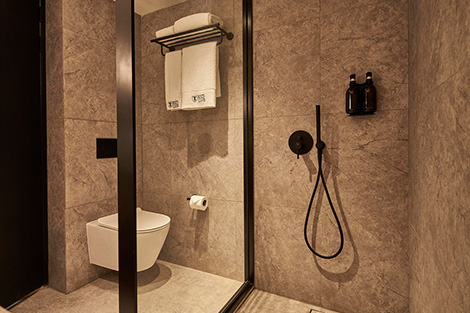 Deluxe Room
Inter-connecting room with tennis court and pool view
Price per night: $168 w/GST
No. of rooms: 4
Area: 23sqm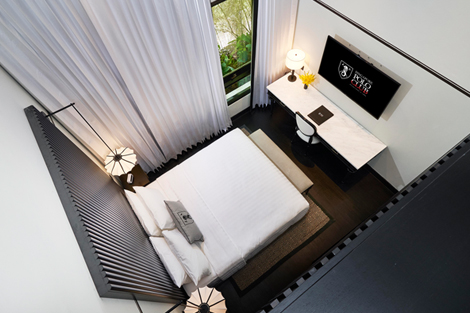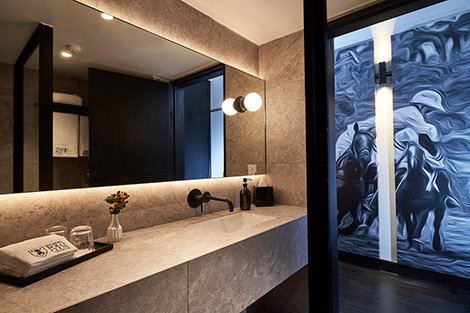 Loft Room
Forest view
Price per night: $190 w/GST
No. of rooms: 4
Area: 26sqm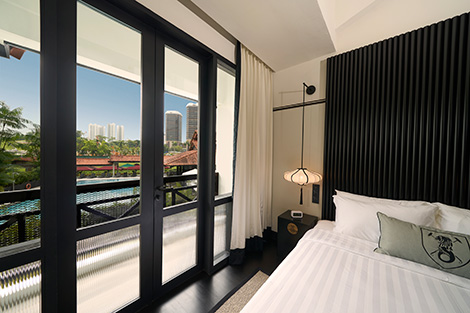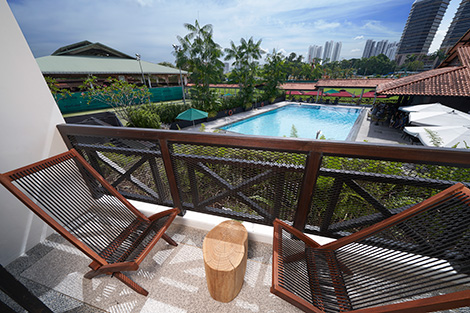 Loft Terrace
Balcony with pool view
Price per night: $215 w/GST
No. of rooms: 4
Area: 31-33sqm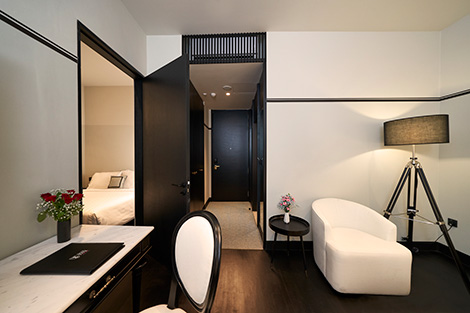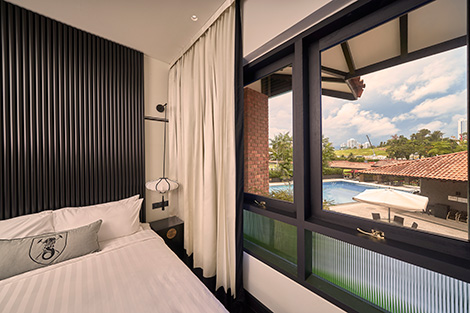 Family Room
Partial pool view with an additional bedroom
Price per night: $238 w/GST
No. of rooms: 1
Area: 32sqm
Operating Hours
Reception
7.30am - 10.00pm daily
F&B OUTLETS

The Paddock Bistro
8.00am - 10.30pm daily (Last order at 9.30pm)

The Polo Bar
6.00pm - 10.30pm daily (Last order at 9.45pm)
Closed on Mondays

Coriander Leaf @ The Mountbatten Room
6.00pm - 10.30pm weekdays
12.00pm - 3.00pm | 6.00pm - 10.30pm weekends
(Last order at 2.45pm and 9.45pm)
Closed on Mondays

The Verandah
8.00am - 11.00pm daily (Last order at 9.30pm)
FACILITIES

Gym
7.00am - 9.00pm weekdays
8.00am - 8.00pm weekends

Swimming Pool
7.00am - 9.00pm daily
Please book your hourly slot at the reception or call 3999

Tennis Courts
7.00am - 11.00pm daily
Please book your hourly slot at the reception or call 3999

Gaming
12.00pm - 10.30pm daily

Atoms Polo Loft
10.00am - 6.00pm weekdays
9.00am - 6.00pm weekends
Closed on Mondays and Public Holidays
Amenities
Free Wifi
Toiletries & Towels
Free Coffee & Tea
Mini Bar
Fitness Room
Swimming Pool
Tennis Court
Restaurants
Laundry Service
Business Centre Services
Elevator
Atoms Polo Loft
Booking Details
Check-In and Check-Out
Check-in time: 3.00pm
Check-out time: 12.00pm

Early check-in and late check-out are upon request and subject to availability.
Members Cancellation Policy
Cancellations within 72 hours before the arrival shall be fully refunded.
Cancellations within 48 hours before the arrival date shall be charged 50% of the whole bill.
Cancellation within 24 hours of arrival shall be charged the full amount.
No shows & early departure rooms will be considered as sold and the full amount shall be charged to the member.
Refunds may be processed for special cases such as emergencies within the Club, pandemics, force majeure or similar situations.
Reciprocal Members Cancellation Policy
Refunds shall not be offered for cancellations. Guests, however, can change the date of their booking within 3 months, depending on availability and excluding peak periods.
Refunds may be processed for Reciprocal Members for special cases such as changes in travel plans due to emergencies, pandemics, force majeure or similar situations.
Eligibility for Booking Rooms
Charter, Regular Individual or Term Members (Active and Absent)
Reciprocal Club Members
Terms and Conditions
General Provisions
The Club may at its absolute discretion, cancel a reservation if of the opinion that the reservation information provided is falsified or incomplete.The Club shall be entitled to vary, amend and/or otherwise change these terms and conditions at any time without prior notice. You shall indemnify and not hold the Singapore Polo Club responsible in respect of any liability, loss, damage, cost and expense of any nature arising out of, and in connection with the acceptance of the reservation by the Club. The Club shall not be liable for any losses, damages, costs or expenses incurred by you as a result of any cancellation of the reservation.
Visitors
In the interest of your well-being and security, all visitors are required to register at the reception and to leave the guest rooms by 10pm. Security guards will conduct patrolling checks.
Smoking Policy
Smoking is prohibited in all club rooms. A $270 w/GST cleaning fee applies for smoking in the premises.
Durian Policy
Durian is not permitted in the rooms and must not be placed in the mini bar or a fee of $270 w/GST will be imposed.
Pet Policy
Pets will not be allowed in the club rooms.
Outside Food Policy
Outside food is not allowed to be consumed at the Club and restaurant premises.
Safe Deposit Box
Guests are encouraged to keep their valuables in the safe deposit box provided in the room. The Club shall not be liable for the loss of money or other personal valuables during your stay.
Noise Policy
Please respect the comfort and well-being of other guests and keep noise at a decent level. Noise levels must be reduced by 10pm. Guests who do not adhere to the regulations will be asked to leave the Club premises.
Covid-19 Safety Measures
By checking into the Club Room, you declare that you have read, understood and accept the following conditions of entry:
You have not had close contact with a confirmed COVID-19 case in the past 14 days*#
You are not currently under a Quarantine Order or Stay-Home Notice
If you have recently arrived in Singapore you must provide proof of a negative on-arrival PCR/ART test
You do not have any fever or flu-like symptoms*, or any contagious medical diseases
Singapore Polo Club reserves the right to terminate any room reservation where you or your visitors fail to comply with the Covid-19 requirements imposed by the Singapore Government and/or Singapore Polo Club.
* not applicable if you are seeking treatment at a medical facility
# not applicable to COVID-19 frontline workers
Payment Methods
Cash, cheque, bank transfer, credit card (Credit card payments, admin fee charges)
FAQ for Club Rooms
Where can we book the rooms?
You may send us an email at

This email address is being protected from spambots. You need JavaScript enabled to view it.

or you may visit our website at www.singaporepoloclub.org
How many rooms do you have?
We have 15 Club Rooms in total with 4 different room types.
How big are the rooms?
The rooms are between 23sqm and 33 sqm in size.
How much are the rooms?
Prices range from $168 w/GST to $238 w/GST per night.
Are the rooms only for members?
Members may book a room for their guests.
Members of the public must purchase any of the membership options for them to be eligible to book the rooms.
How do I join as a member?
Please call 6854-3999 or email

This email address is being protected from spambots. You need JavaScript enabled to view it.

for assistance.
What facilities do you have?
Members may access our two F&B outlets, swimming pool, gym, tennis courts and wellness centre. Members' guests and Clubhouse members may use the facilities if they are staying in the Club Rooms.
Do guests of members get discount from F&B?
Members' guests will not be eligible for discounts in our F&B outlet.
Do we need to pay for incidental/security deposit?
Yes incidental/security deposits are required upon check-in.
Active Charter, Regular & Term Members: $50 per stay
Absent Members: $100 per stay
Guest of Members: $100 per stay
Reciprocal Members: $100 per stay
Clubhouse Members: $100 per stay
Deposits will be refunded upon check out if they are not utilised.
Are guests younger than 21 years old allowed to check in?
Guests below 21 years old must be checked in by a parent or guardian to sign the registration and indemnity form.
Are visitors allowed in the room?
Club room guests may invite visitors upon registration at the reception.
Visitors must vacate the room at 10pm. Security guards will be on patrol.
Noise levels must be at a minimum from 10pm.
Are decorations allowed to be set up in the room?
Guests who want to decorate the room must put up and take down the decorations themselves.
Minimal decorations are allowed without altering any part of the room.
Any damages found in the room will be subjected to a restoration fee.
Do you offer any packages for activities?
Yes, we do offer packages. Please see the list here https://www.singaporepoloclub.org/facilities/facility/roompromotions
Is there a maximum length of stay?
There is no maximum length of stay. All stays are subject to availability.
Do you have long-stay rates? What is considered long-stay?
Yes, we do. Long-stay is staying 14 consecutive nights or more.
Long-stay rates are available with a minimum of 14 consecutive nights. Please call 6854-3999 or email This email address is being protected from spambots. You need JavaScript enabled to view it. for more rates.
Can I go to the stables?
The stables are off-limits at all times to non-members.
Members and their guests are allowed at the stables if they have pre-arranged activities or if they have stabled a horse in the Club. i.e. booked riding/polo packages or riding/polo lessons.
Can I use the jackpot room?
Members aged 21 years and above may use the Jackpot room and must abide by the government legislations.
Members' guests would need to subscribe as a Clubhouse member if they are interested to use the jackpot room.
Can I smoke in the room?
Smoking is strictly prohibited in the rooms or a $250 cleaning fee will be imposed.
Guests are only allowed to smoke in designated smoking areas in the Club.
Do you provide room service?
Room service is not available. Guests may dine in any of our two restaurants, The Paddock Bistro and Coriander Leaf.
Are pets allowed in the room?
Pets are strictly not allowed in the Club Rooms.
Is Wi-fi available in the room?
Yes, Wi-fi is available in the room for staying guests.
Are there BBQ pits available for rent?
There are no BBQ pits available for rent in the premises.
Is there complimentary parking?
Club Room guests will enjoy complimentary parking during the duration of their stay.
*Clubhouse members are eligible to register 1 vehicle for complimentary parking.
Do you have Automated Teller Machine (ATM) available in the premises?
ATM is not available at the Club. Guests may either go to Toa Payoh, Novena or Balestier for ATM machines.
Are we able to top up our Cash Card?
Cash Card Top-up machines are not available at the Club.
Can we store our luggage before check-in and after check-out?
Yes, you may leave your luggage at the reception during those times.
What is the nearest MRT Station?
Nearest MRT stations are Novena Station (Red Line) or Caldecott Station (Yellow Line).
What are the nearest hospitals around the Club?
Tan Tock Seng Hospital, Thomson Medical Centre, Mount Alvernia Hospital and Mount Elizabeth Novena Hospital.
Do you have a convenience store in the Club?
We do not have a convenience store inside the premises but we do have a gift shop, Atoms Polo Loft that sells equestrian and polo items as well as Club souvenirs.
Go To